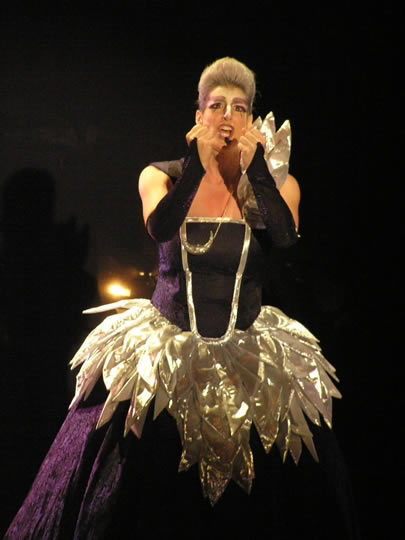 Jessica Marsten has been praised for her "clear soprano" (Fanfare Magazine, American Record Guide), "…Steber-like youthful clarity" (Musicweb.uk.net), and "sweet voiced soprano…" (MusicalPointers.co.uk) with a "…lovely timbre…" and "coloratura..[of]..exemplary neatness" (Diario Las Palmas, Spain) who "hits the mark, with exceptional dramaturgy" (New Music Connoisseur).
An accomplished concert artist, she has been a regular guest of the Sound Shore Chorale and Orchestra of New Rochelle, NY, and will be joining them again in April, as the soprano soloist for a performance of Haydn's Paukenmesse.  Previous solo appearances with Sound Shore have included Josef Rheinberger's Der Stern von Bethlehem, Handel's Alexander's Feast, and Haydn's Creation (Gabriel). Other regular appearances as a guest artist have included the Burlington Choral Society in Vermont, where she sang Brahms' Ein Deutsches Requiem, and Mendelssohn's St. Paul, in between debuting with the ensemble as the soprano soloist in Orff's Carmina Burana, and reprising the role with BCS in celebration of their 35th anniversary season. She was also a repeat guest of the Toledo Symphony, in Ohio, as the soprano soloist in Handel's Messiah, which was broadcast by WGTE Toledo Public Radio.  She has performed on The Interchurch Noonday Concert Series in New York as the soprano soloist in Mozart's Coronation Mass and joined members of The Knights Chamber Orchestra and the Interchurch Center Chorus in NY as the soprano soloist in Vivaldi's Gloria.  Past performances include Beethoven's Mass in C, Haydn's Die Jahreszeiten (Hanne), and Theresienne Messe at the Pitten Classics Festival in Austria, where she was Artist/Faculty from 2004-2008, Bach's Ein Feste Burg ist unser Gott (BWV80), Mozart's Great Mass in c, and the world premiere of Richard Pearson Thomas' Harmonia Sacra with the Riverside Festival Orchestra and Choir, Mozart's Requiem with the American Symphony Orchestra, and Bach's Kantate 51, Jauchzett Gott in allen Landen with the Brooklyn Philharmonic Orchestra.  Ms. Marsten was heard in the live National Public Radio broadcast of the American premiere of A Garland for Linda as the soprano soloist in The Flight of the Swan (Giles Swain).  She counts among her repertoire Händel's Solomon and Israel in Egypt, Mozart's Mass in C ("Spaur"), Bach's Weichet nur, betrübte Schatten ("Hochzeit Kantate"), Schubert's Mass in G, and Vaughan Williams' Dona Nobis Pacem.
Ms. Marsten's operatic repertoire embraces a wide range of comedic and dramatic roles, and her career highlights have included a dazzling turn as Konstanze in Die Entführung aus dem Serail with the Liederkranz Opera Theatre in New York, numerous performances of the role of the Queen of the Night in Mozart's Die Zauberflöte with, among others, the Orchestra of St. Luke's, Festival Internacional Tamaulipas, Mexico, the American Classical Orchestra, The Long Island Philharmonic and the Goliard Ensemble, Aspasia in Mitridate re di Ponto with the New York Chamber Opera, The Waitress in the New York Chamber Opera's production of Seymour Barab's Fortune's Favorites, an appearance in a gala concert with the New York Chamber Opera, performing arias and duets with a distinguished company of artists, including Metropolitan Opera stars Aprile Millo and Barbara Dever, Mavis in the New York premiere of Jorge Martin's award-winning opera Tobermory with the American Chamber Opera, Zerbinetta in Richard Strauss' Ariadne auf Naxos with the Brandenburg Opera, Adele in Johann Strauss' Die Fledermaus with Opera Northeast, and Valencienne in the Greater Buffalo Opera's production of Lehar's The Merry Widow, with Roberta Peters in the title role.
A passionate devotee of chamber music, Ms. Marsten was a winner of the Artist International Young Musician's Awards, which resulted in her New York recital debut in Carnegie Hall's Weill Recital Hall.  In 2003, at the request of composer Beth Anderson, Ms. Marsten again graced the stage of Weill Hall to perform The Angel, with the Rubio String Quartet, with whom she subsequently recorded the work for the CD Swales and Angels released by New World Records.  Classicstoday.com said of the performance, "Soprano Jessica Marsten's clear diction and silvery tone suit the piece perfectly, and she manages the huge vocal range with impressive confidence at both high and low extremes of register."  She has performed numerous recitals in the Northeast, as well as in Tennessee, Texas and Spain, where she was hailed for her "exceptional skill in vividly creating the atmosphere of each song, in a repertoire where a fine interpreter unveils a thousand marvels".
In the competitive arena, Ms. Marsten distinguished herself as a finalist in the Alfredo Kraus International Vocal Competition, the Meistersinger Competition in Austria, and was a winner of the Greater Buffalo Opera's Erwin Johnson Vocal Competition.  She has sung in Master Classes with Judith Blegen, Richard Woitach, Virginia Zeani, Warren Jones, and Elaine Bonazzi.
Originally pursuing a career as a flutist, Ms. Marsten earned her Bachelor's degree from the Peabody Conservatory of Music in Baltimore.  Subsequently turning her attention to singing she received her Master's Degree in vocal performance from the Mannes College of Music in New York, and did her post graduate vocal studies with Joan Patenaude-Yarnell.  She currently studies with Ira Siff.  The Maryland native resides in Poughkeepsie, New York.